BLaST Intermediate Unit 17 is proud to announce that it has joined a corporate partnership with the River Valley Regional YMCA!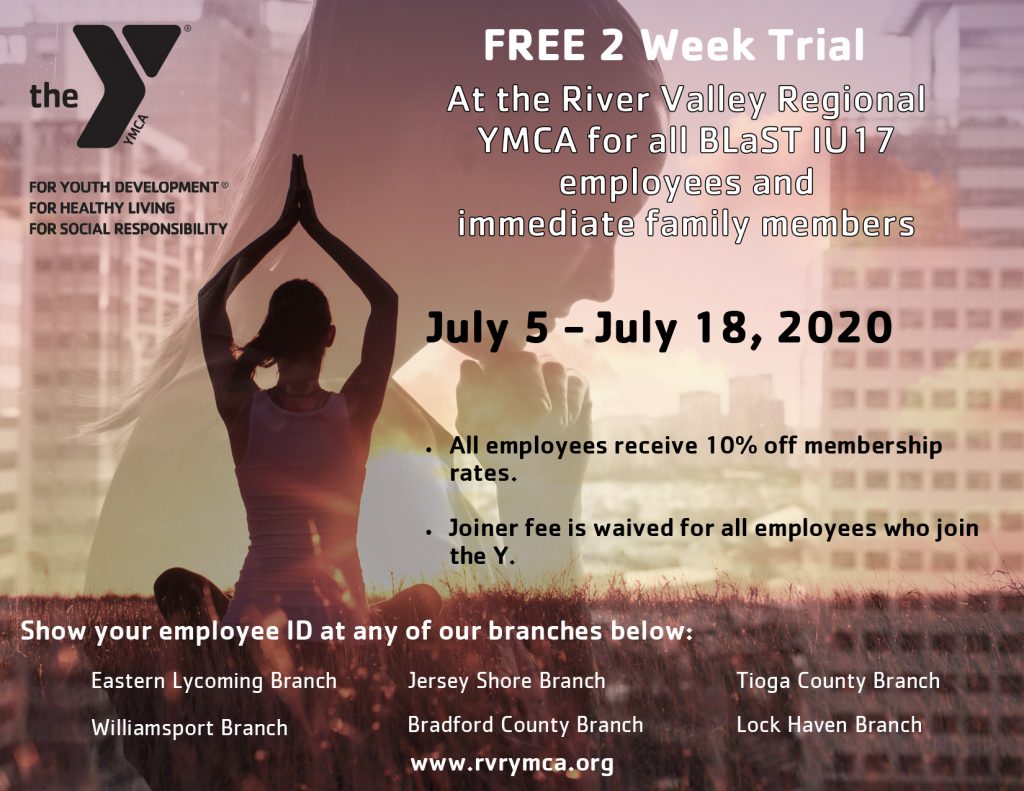 As a BLaST IU 17 employee, you are eligible for a 10% discount on your membership fee.
Not a YMCA member? Not sure if the YMCA is for you? No problem! The YMCA is offering a complimentary FREE 2-week trial from July 5th – July 18th for you and your family (immediate household members) so you can see what the Y is all about. Click here to download a two week visitor pass.
River Valley Regional YMCA participating branches include: Bradford County (Towanda), Tioga County (Mansfield), Jersey Shore, Eastern Lycoming, Williamsport and Lock Haven. Once you have established a home branch, you are eligible to work out at any of the remaining branches. The YMCA also participates in the Nationwide Reciprocity Program which allows you to use YMCA facilities all over the country as long as you are an active YMCA member.
Although the 2-week free trial does not begin until July 5th, BLaST IU 17 employees are eligible for their 10% discount effective immediately. Please stop by the front desk of one of the participating branches to get started. All employees will need to provide the YMCA with proof of employment via ID badge or verification letter.
Please visit the River Valley Regional YMCA website at https://www.rvrymca.org/covid-19-updates for more information on current health & safety policies and procedures for each facility.
If you should have any questions or are interested in more information, please feel free to contact myself or your local River Valley Regional YMCA branch:
Bradford County Branch: (570) 268-9622
Tioga County Branch:

(570) 662-2999

Jersey Shore:

(570) 398-2150

Eastern Lycoming:

(570) 546-8822

Williamsport:

(570) 323-7134

Lock Haven:

(570) 748-6727