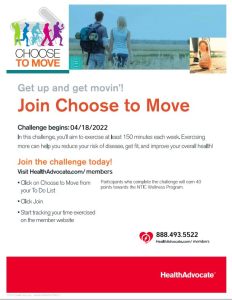 Choose to Move

4/18 – 5/15
Choose to Move is a fitness challenge that will help you rack up minutes of exercise in the hopes of out-moving the competition! You'll learn how to fit exercise into your daily routine—all while burning calories, getting fit, and having fun! Track your time exercised on your wellness website.
Each week, your goal is to complete at least 150 minutes of exercise.
Participants who track 150+ minutes each week for 4 weeks will earn 40 points towards the NTIC Wellness Program.